Regular polygon area calculator
Apothem(radius of inscribed circle)
No.of Sides of Polygon
Length of each side
Unit
Result:
Area of Polygon

Unit
Regular Polygon Calculator to find out the Polygon Area when given number of polygon sides, values of apothem, and length of each side.
Regular Polygon area formula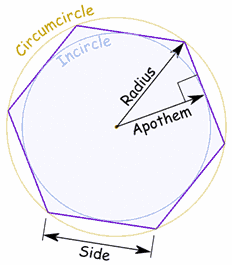 Rectangle Polygon Area A = (1/2) Apothem x No. of Sides x Length of side
Thinkcalculator.com provides you helpful and handy calculator resources.